Having a cast or bandage can be a very inconvenient time, where simple tasks such as showering or bathing becomes difficult! AquaStop is a waterproof cast and bandage protector that was created in order to help improve your day to day life with a cast a little easier.
AquaStop creates a watertight seal that protects plastercasts and bandages, therefore enabling anyone with an arm, leg, hand or foot injury to shower, bathe or swim as usual. Due to the nature of the product, AquaStop is particularly good for covering a cast when swimming as when it is submerged in water it will create a strong, water-tight seal.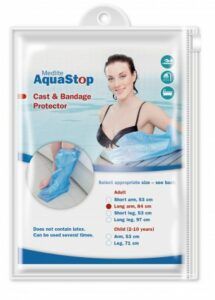 AquaStop is:
Latex free
Flexible
Reusable
An attractive blue colour
This product is universal and can be used by both male and female adults and children. AquaStop ranges in size and covers:
Adult:
Short arm 53cm
Long arm 84cm
Short leg 53cm
Long leg 97cm
Child:
Children sizes are for those ages 2-10 years old.
AquaStop can be purchased from Crescent Pharma OTC at £12.99.
---
Caution: Wet plastic is slippery. This is not a toy, keep out of reach of children. To be used for cast and bandage protection of the arms and legs only. To prevent ripping, do not trim with scissors.